Less material for less environmental impact
We reduce the weight of means of transport
We make aluminum lighter than ever
An alternative to composite
We supply recyclable parts
Innovative solutions for transport systems.
We contribute to improving the energy efficiency of transport
Light structure made with green technology.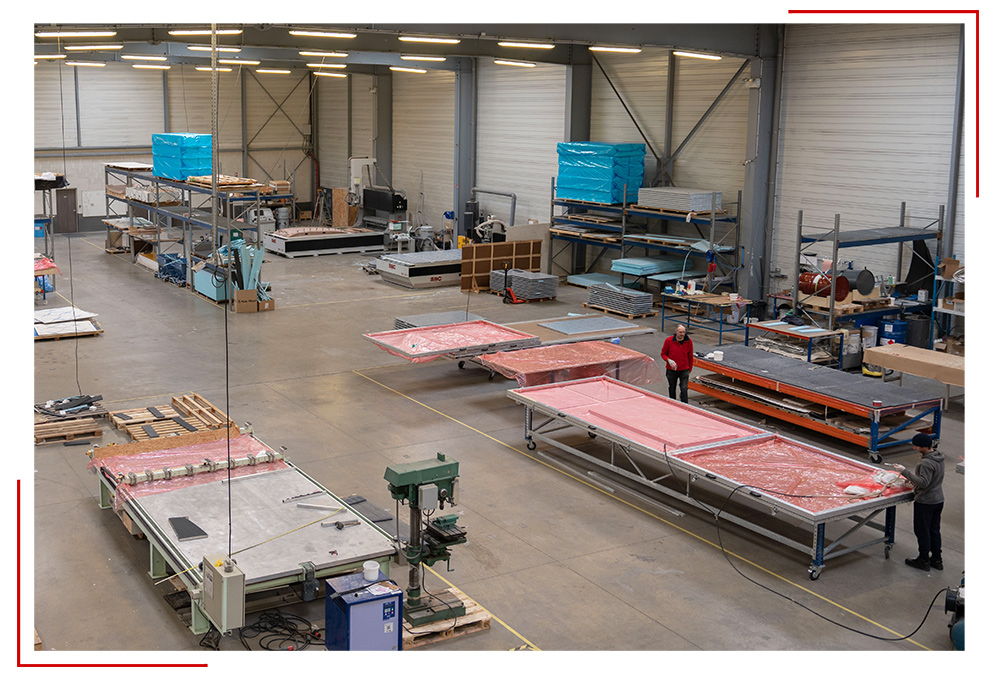 HALCYON, EXPERT IN THE FIELD OF COMPLEX ALUMINUM HONEYCOMB SANDWICH PANELS
From design to industrialization, we adapt your technical parts to the aluminum sandwich process.
The advantages of aluminum honeycomb sandwich structures:
Mass gain for identical mechanical properties
Reduction in raw material losses
Recyclability of aluminum
Innovation for 3D parts with complex shapes
Process adaptable to small, medium and large series
Honeycomb parts are already very widespread in the transport industries: they are made up of 2 skins with good mechanical characteristics and a light core. These 2 materials combined make it possible to obtain lightweight structures with very good mechanical properties.
However, in today's industry, most of these parts are simple and flat. Today, thanks to the patent filed by Halcyon in 2015, all part geometries adapt to this technology!
Indeed, thanks to Halcyon's know-how in forming or machining honeycomb, your complex parts adapt to our process. We have already worked on cylindrical, conical, or double-curved parts for our customers.
Today, Halcyon is the only manufacturer capable of forming complex sandwich panels with aluminum skins and an aluminum honeycomb core. This innovation offers a new alternative to fiber composite materials: the material offered by Halcyon is recyclable and production costs are more advantageous.
THE HONEYCOMB SANDWICH PANEL, THE BEST ANSWER TO YOUR CHALLENGES